Keto jalapeño poppers are a delicious appetizer that everyone loves! This recipe includes methods for cooking them in your air fryer, but they're also great baked in the oven. In any case, this low-carb snack is the best appetizer out there.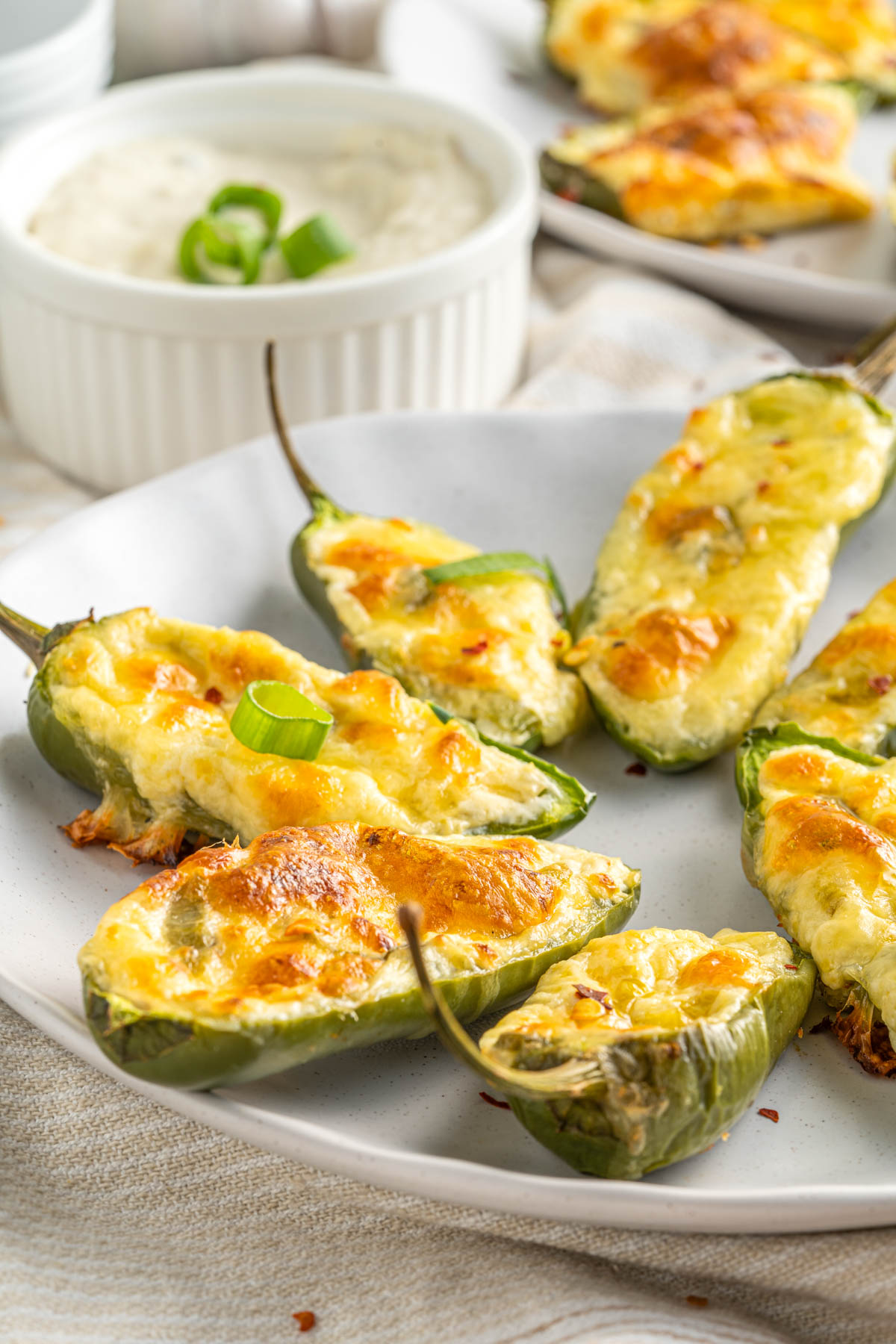 Carbs in jalapeño poppers
We adore jalapeño poppers because they're the best combination of comfort food goodness: cheesy, spicy, and creamy– all in one peppery appetizer!
There's only 3 g. net carbs for 6 poppers! Make as a low carb main dish, side or appetizer along with Mexican Cauliflower Rice for a fiesta!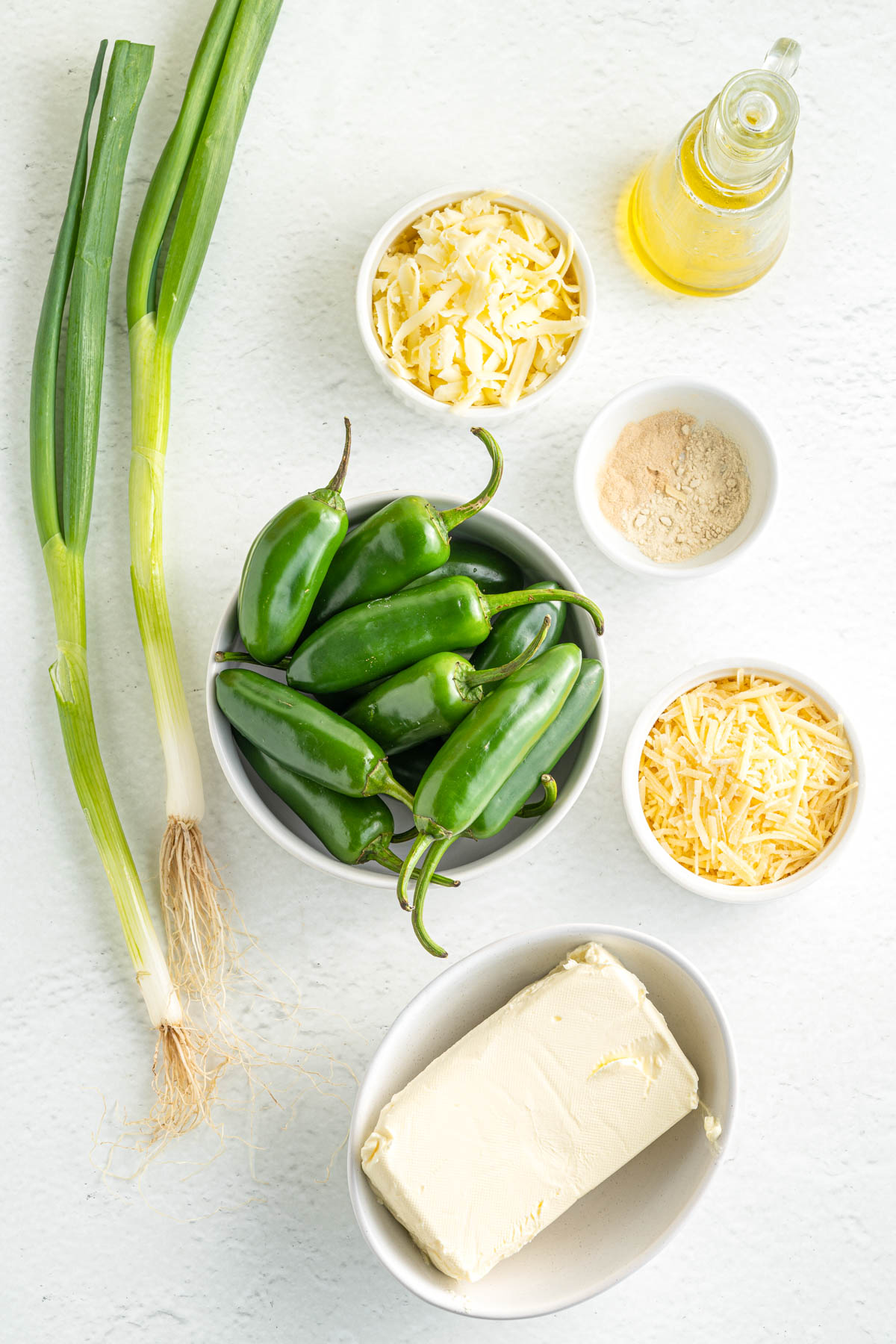 Recommended Ingredients
This simple app uses fresh ingredients, without all the sugar of most sides. It is totally worth it to have all ingredients in this recipe: cream cheese, cheddar cheese, garlic powder, and onion powder are the best combo.
jalapeños
cream cheese
green onions
parmesan cheese
shredded mozzarella cheese
garlic powder
onion powder
salt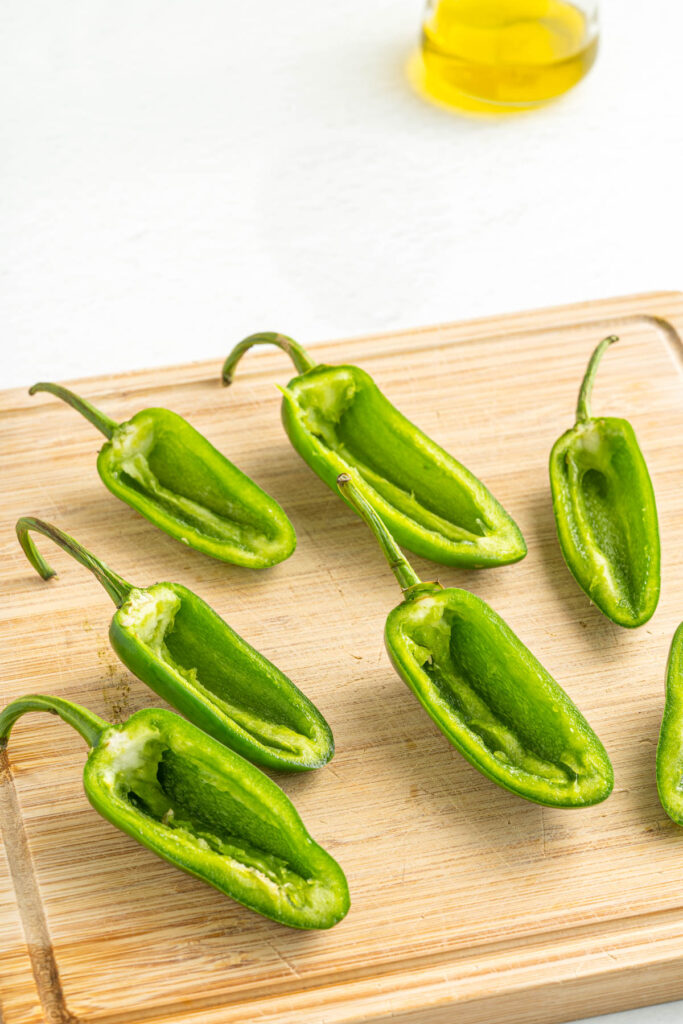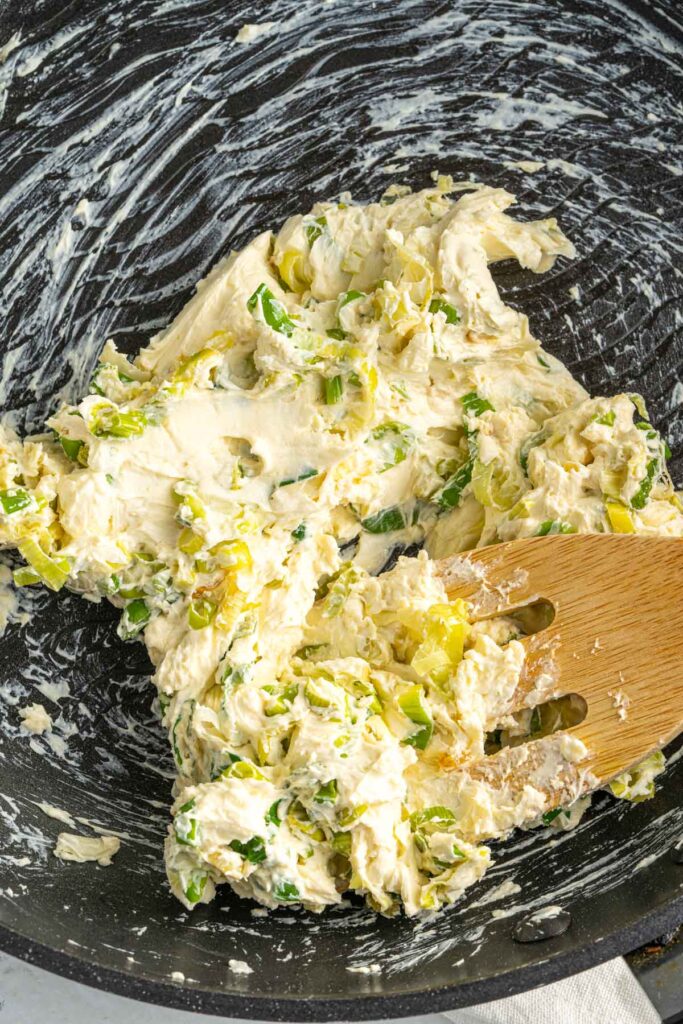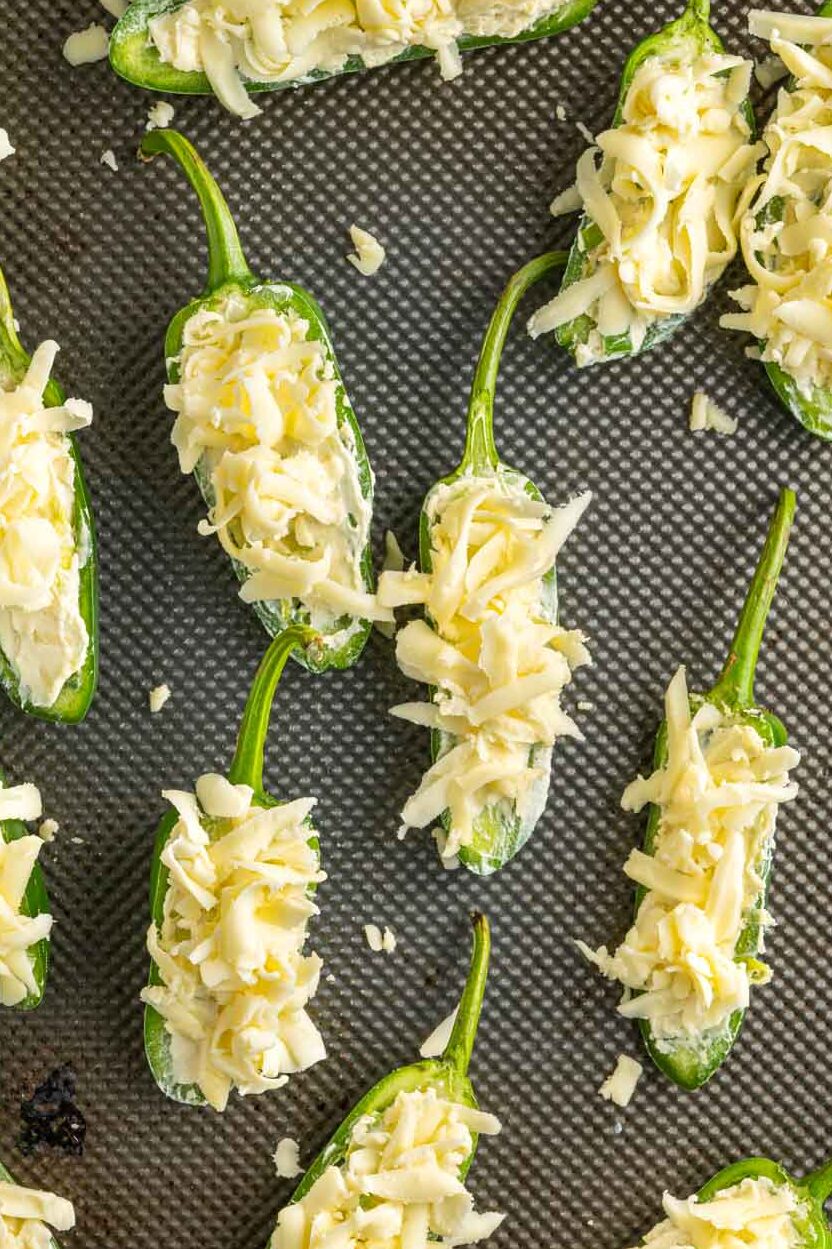 Oven jalapeño poppers
This recipe is ridiculously easy to follow!
To begin, wash and cut a few jalapeños in half lengthwise. Using a spoon, scoop out the seeds and membranes of the pepper.
The oils from the jalapeño cling to your skin and can cause it to transfer to other sensitive areas. Be especially careful to never touch your eyes or nose after touching a jalapeño.
2. Once your jalapeños are ready to be stuffed, combine the ingredients for the cheesy filling.
Simply mix everything together until it's smooth and creamy, and then pour it into the jalapeño halves. To top them off, add a sprinkle of extra cheese!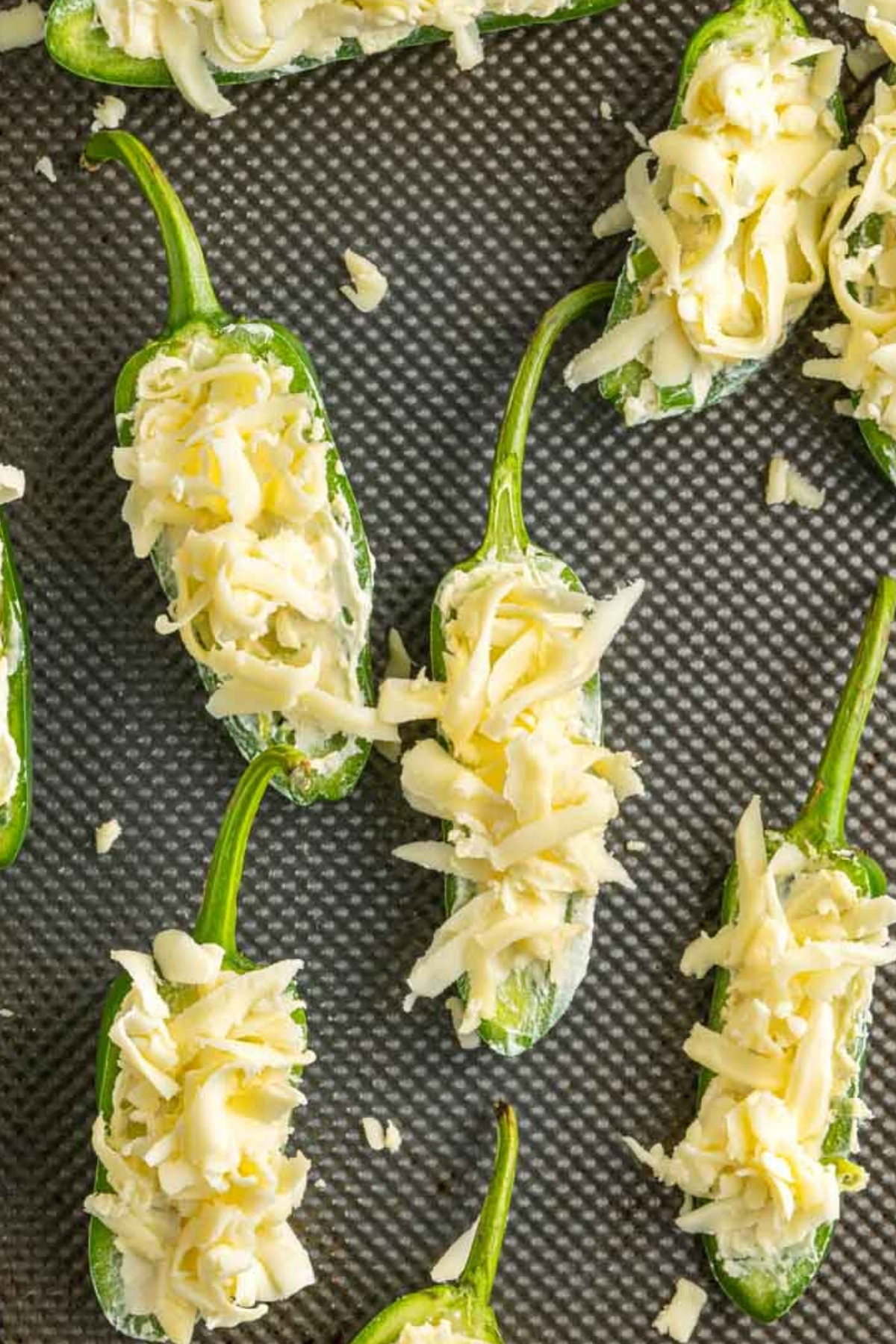 Air Fryer Poppers
The poppers should be placed in the air fryer basket with an inch or so of space between each popper if you're cooking them in the air fryer.
Using a lined baking sheet, place your keto jalapeño poppers in the air fryer for 7-10 minutes at 375 degrees or until the cheese is fully melted and turning a golden color.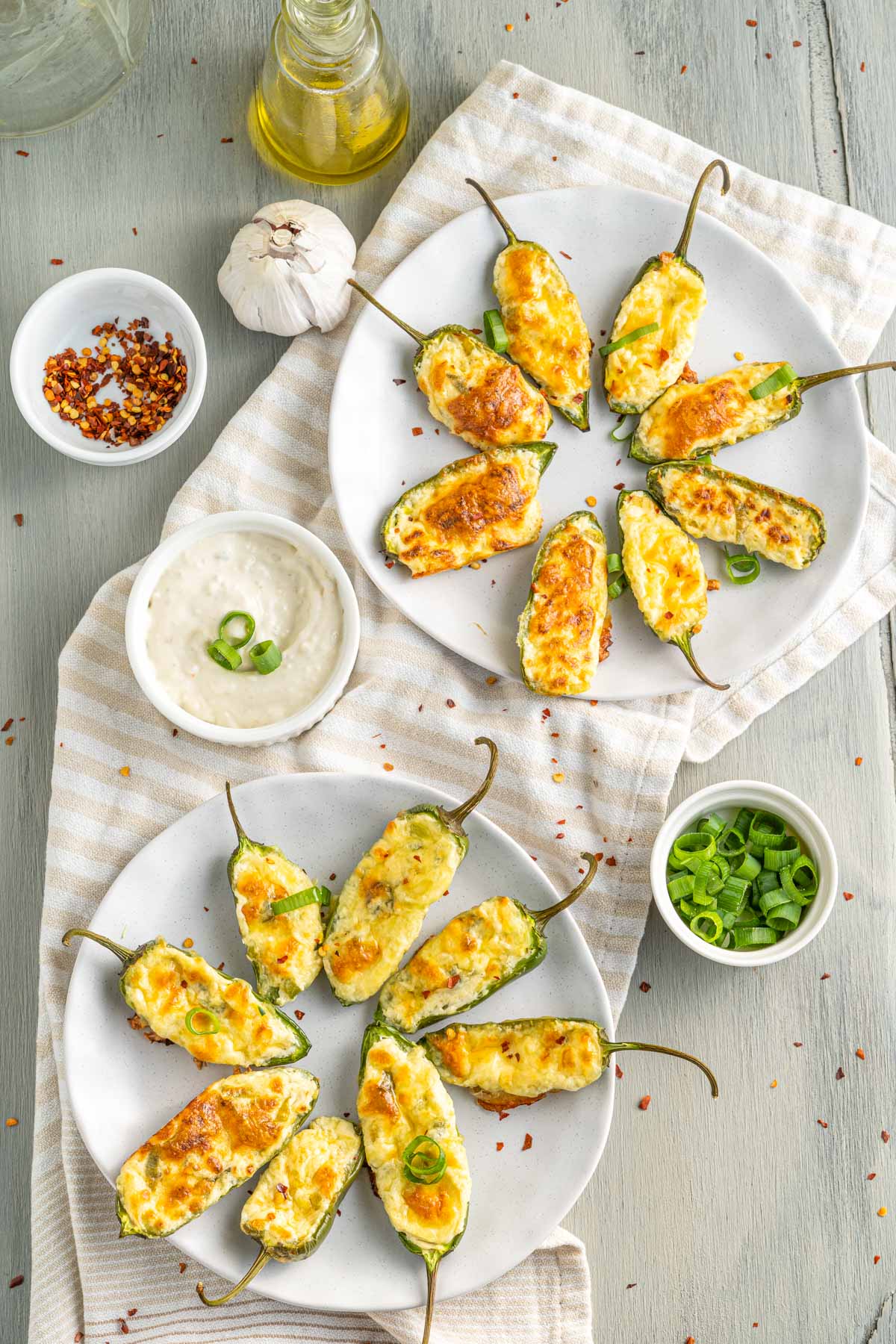 Are stuffed jalapeños spicy?
Some jalapeños are hotter than others, and you won't know how spicy they are until you eat them.
Having said that, the majority of the spiciness is contained inside the seeds and membranes of the pepper, which you will be scraping away before filling with the cheese mixture.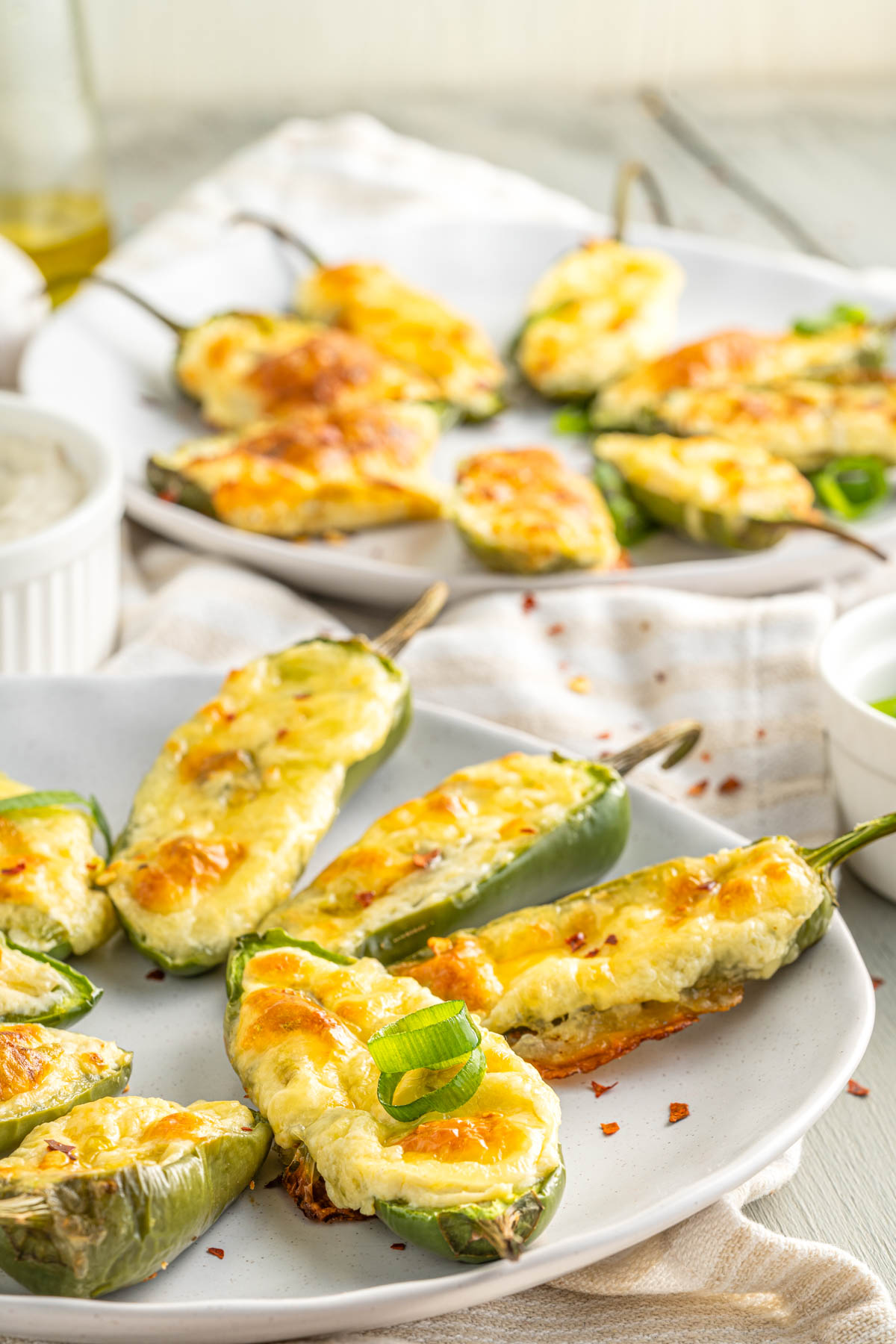 FAQ
How spicy is this appetizer?
The cream cheese and cheddar filling also tends to minimize the heat of the chili peppers. However, the longer you allow peppers to ripen, the hotter they'll be.
I prefer using my jalapeños soon after purchasing to minimize the heat. Alternatively, you may also use poblano peppers as a milder substitute for jalapeño.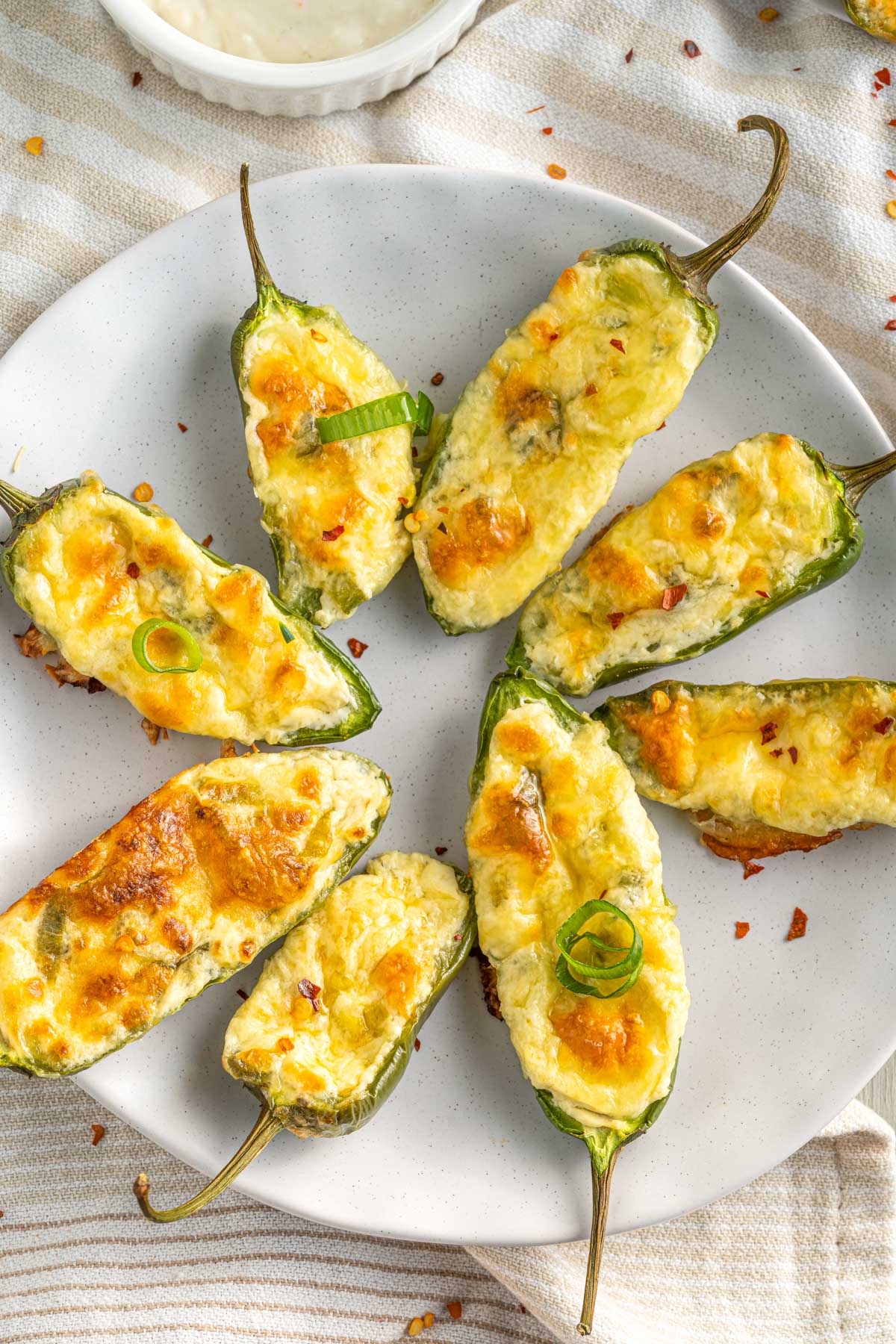 How to make it extra spicy?
This recipe for homemade jalapeño poppers does have a slight heat to it, but it is not excessive. Add some minced jalapeño or red pepper flakes to the cream cheese filling if you want it to be spicier.
How to store cooked jalapeño poppers
Store leftover jalapeño poppers in a refrigerated air-tight container for up to 3 days.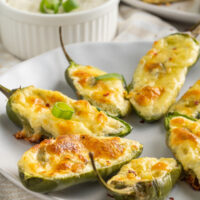 Air Fryer Jalapeño Poppers
Air fryer jalapeño poppers are a yummy app that everyone loves! Recipe includes methods for cooking them in your air fryer or baked! Keto and low carb friendly recipe for the best appetizer out there.
Print
Pin
Rate
Instructions
Air Fryer Jalapeño Poppers
Chop the green onion in slices and sauté the white part in olive oil over medium heat. Once translucent, add the green part. Stir for one minute until tender.

Remove the onion from heat. Add cream cheese, parmesan cheese, onion powder, garlic powder and salt. Mix all the ingredients to get a smooth paste.

Chop each jalapeños in halves, remove their veins and seeds but not their stalks.

Fill the jalapeños with the cream cheese mixture and top them with a small amount of shredded mozzarella.

Add to air fryer at 375°F for 7 minutes.

Serve warm with ranch dressing or a dipping sauce.
Oven-baked jalapeño poppers
Follow same instructions for prep, but preheat the oven to 400F.

Bake the jalapeños in a high baking tray covered with foil for 12 minutes or until jalapeños are fork-tender, then remove foil and bake for 2 more minutes for the mozzarella to gratin.
Notes
Tips
Store left-overs in the fridge for up to five days. Re-heat in the microwave or in the oven.
Add some panko (or pork rinds, if keto) on top of the jalapeños for a crunchy bite.
Recipe Notes
Great recipe for people following a gluten-free or low-carb diet. Creamy, cheesy and kind of addictive baked jalapeño peppers! Enjoy them as a side or entry-dish with some ranch sauce or chipotle mayo.
Nutrition
Calories:
199
kcal
|
Carbohydrates:
4
g
|
Protein:
7
g
|
Fat:
17
g
|
Saturated Fat:
10
g
|
Polyunsaturated Fat:
1
g
|
Monounsaturated Fat:
5
g
|
Cholesterol:
55
mg
|
Sodium:
377
mg
|
Potassium:
155
mg
|
Fiber:
1
g
|
Sugar:
3
g
|
Vitamin A:
1026
IU
|
Vitamin C:
34
mg
|
Calcium:
165
mg
|
Iron:
1
mg