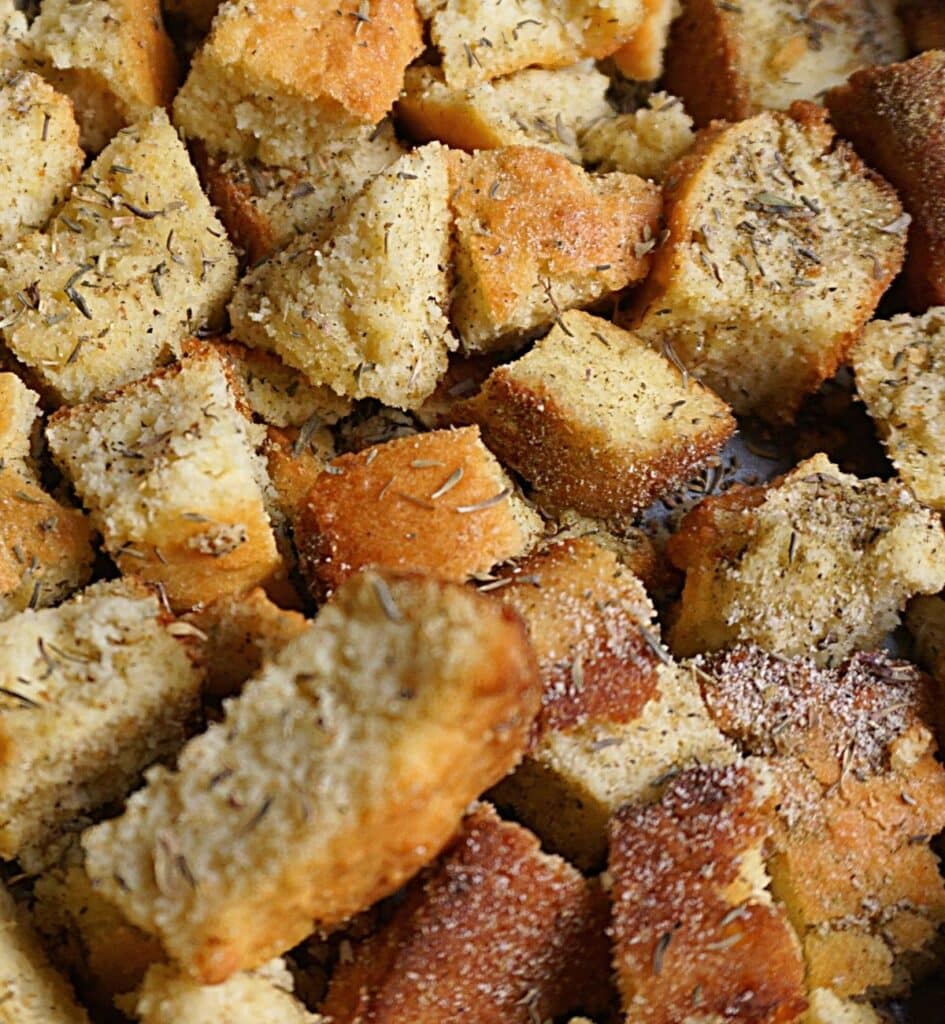 These crunchy keto croutons are easy to make. No need for a keto crouton substitute.
Admittedly, keto-friendly bread making is something I struggle with and a healthy keto crouton recipe is even harder to come by.
If it isn't delicious, I'm tossing it.
I wanted to find a good bread base that would harden enough to form croutons or a base for stuffing.
Can I have croutons on keto?
Now you can!
Last Thanksgiving, I ended up eating way too many carbs and it left me feeling bloated and blah.
I searched and I couldn't find a decent recipe out there for keto croutons. So, I used a keto bread recipe and turned it into a crunchy keto croutons recipe with some special spices.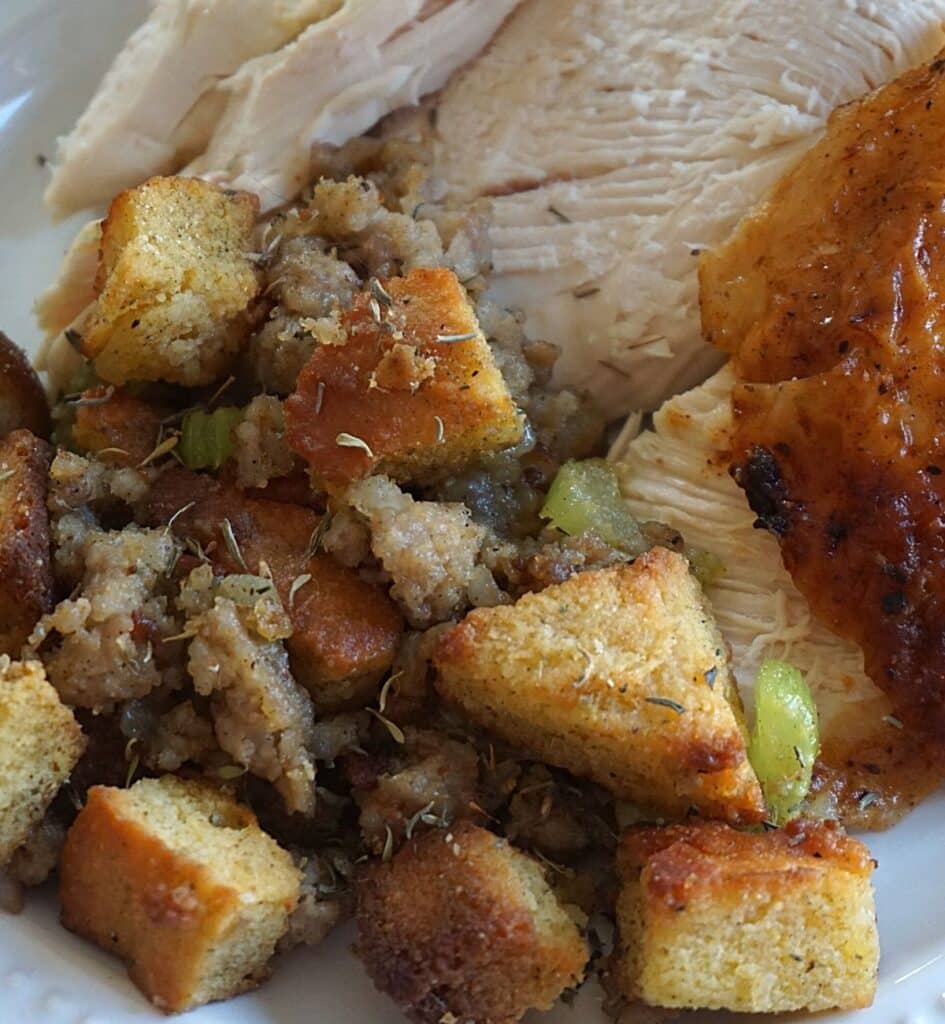 What can I eat keto croutons with?
If you're missing bread on a low-carb diet, this keto crouton recipe is for you.
You can make this ahead on a weekend, or pop it in with nightly regular dinner, to have throughout the week ahead.
Enjoy with salads, soups, or make our keto sausage stuffing recipe with a baked chicken or turkey. This recipe is so versatile.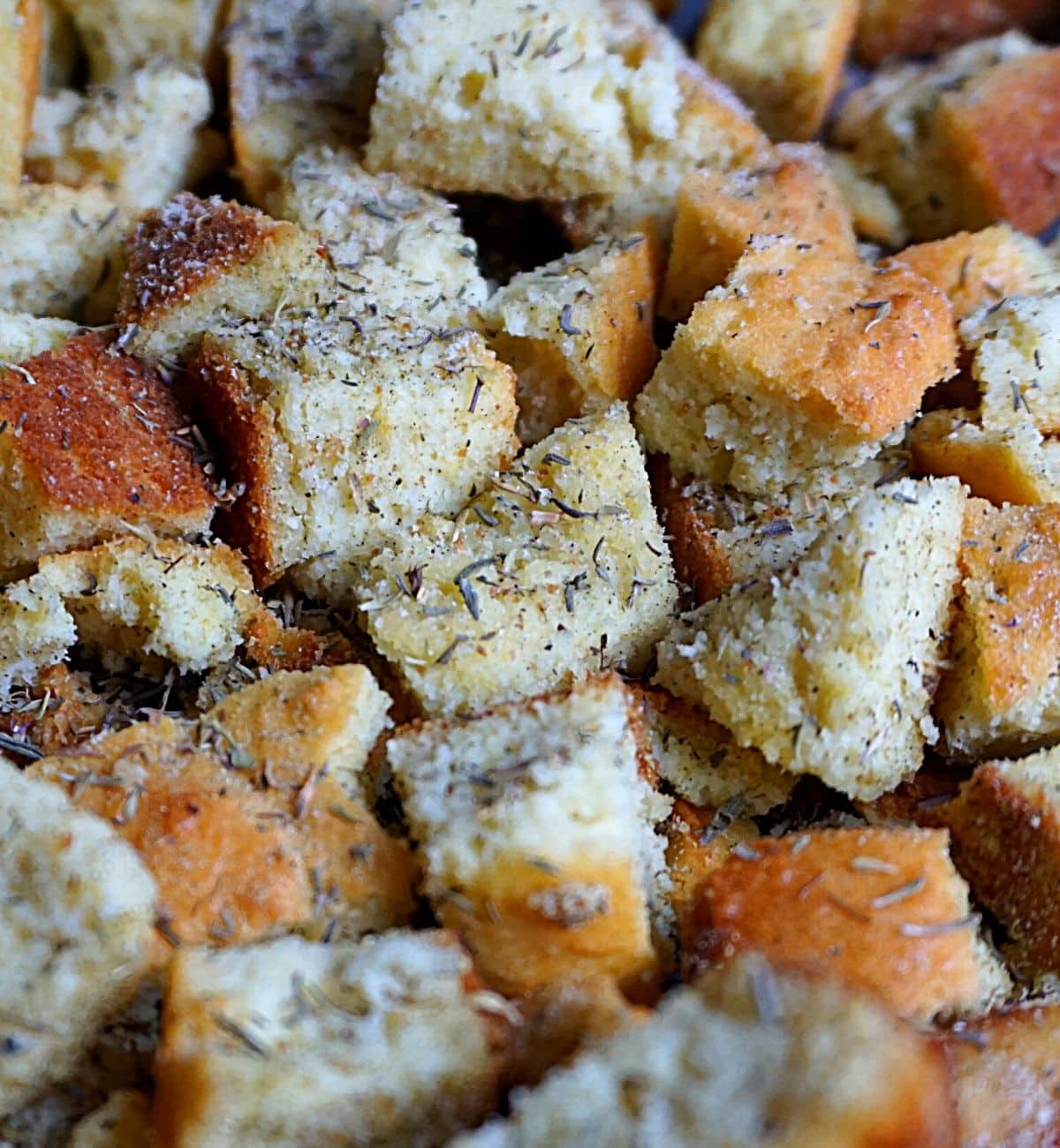 How do I make the croutons?
First, you'll want to mix your batter ingredients and bake. I recommend a nice, sturdy cast-iron skillet.
Every southerner knows the best cornbread is made in a cast-iron skillet.
Next, bake and remove.
You'll want to get the bread out and slice it up into cubes, season it properly, then bake again to toast the bits.
I recommend baking another 5-10 minutes to ensure it's toasted properly, checking to make sure it's not overly cooked. This is very important, as you've already put some time and energy into the mix.
What can I use croutons for?
I love these keto friendly croutons with salads, soups, or even as a little treat on the go. I do miss having bread all the time, as do most on the keto diet.
This satisfies my cravings ten-fold. If you like this recipe, check out how I used these croutons to make my southern low-carb sausage stuffing.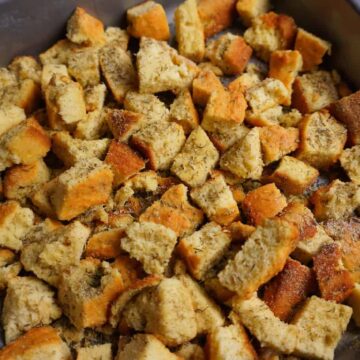 Keto Croutons
Make this keto crouton recipe for the week ahead. Enjoy with salads, soup or as the main ingredient in our Keto Stuffing. Tastes just like regular stuffing!
Print
Pin
Rate
Instructions
Preheat oven to 320° F. Mix flours, heavy cream, erythritol, eggs, and butter to form batter.

Bake bread batter for 25-30 minutes, until crust is golden on top, using an 8×8 pan or 10" round cast iron skillet.

Remove and cut bread into 1/2in. cubes. Add other seasonings and bake another 5-10 minutes with a brushing of olive oil to toast, or let sit overnight.
Nutrition
Calories:
133
kcal
|
Carbohydrates:
4.8
g
|
Protein:
3.2
g
|
Fat:
11.9
g
|
Saturated Fat:
6.5
g
|
Cholesterol:
89
mg
|
Sodium:
114
mg