This easy shrimp ceviche recipe is simple, delicious, and a perfect dish for those on a keto diet. If you are looking for a low-carb ceviche, then this recipe will become your new favorite in no time!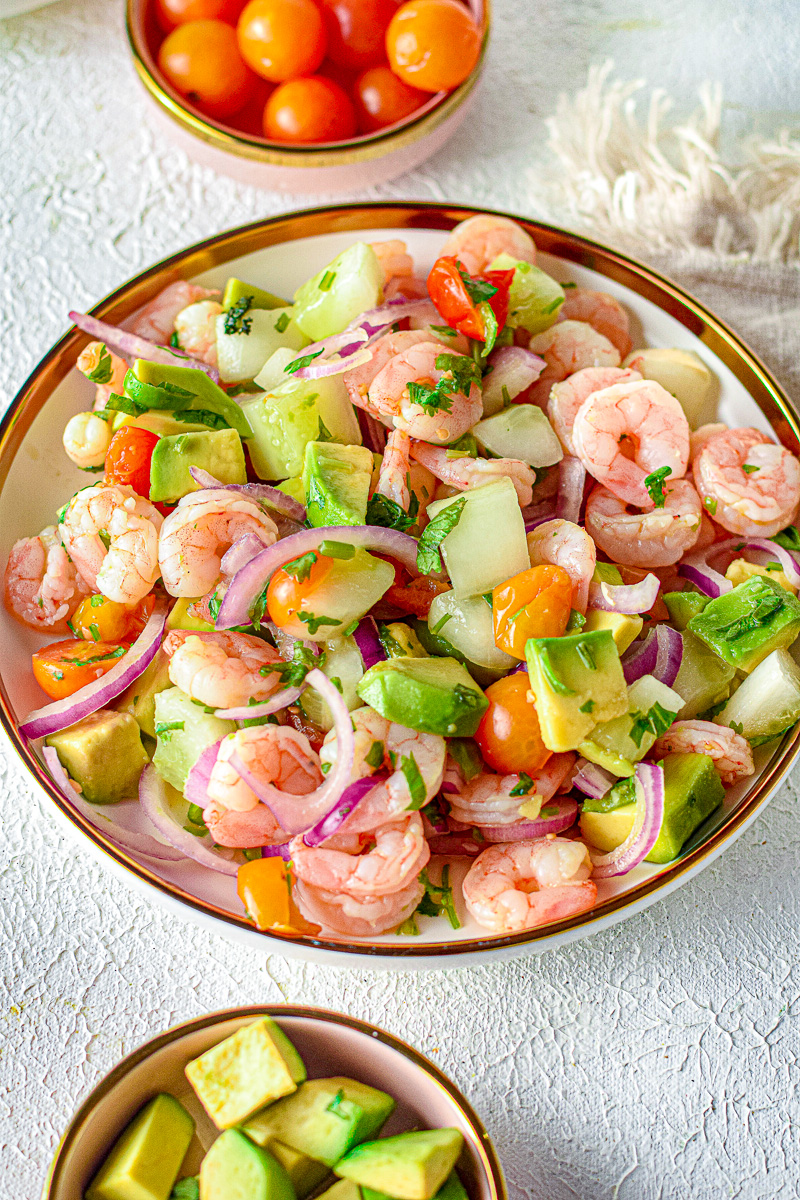 My family loves our favorite Mexican restaurant's shrimp ceviche and it's even better when we can make it at home for a quick, healthy lunch.
can you eat ceviche on keto?
Yes, if you use ingredients and veggies low in net carbs (and this recipe has only 7 g. net carbs). Depending on your macro goals, you may choose to omit the OJ and only add a bit of tomato to even further reduce the carb count of this ceviche recipe. Also, be sure to use reduced or low carb tortilla chips.
ingredients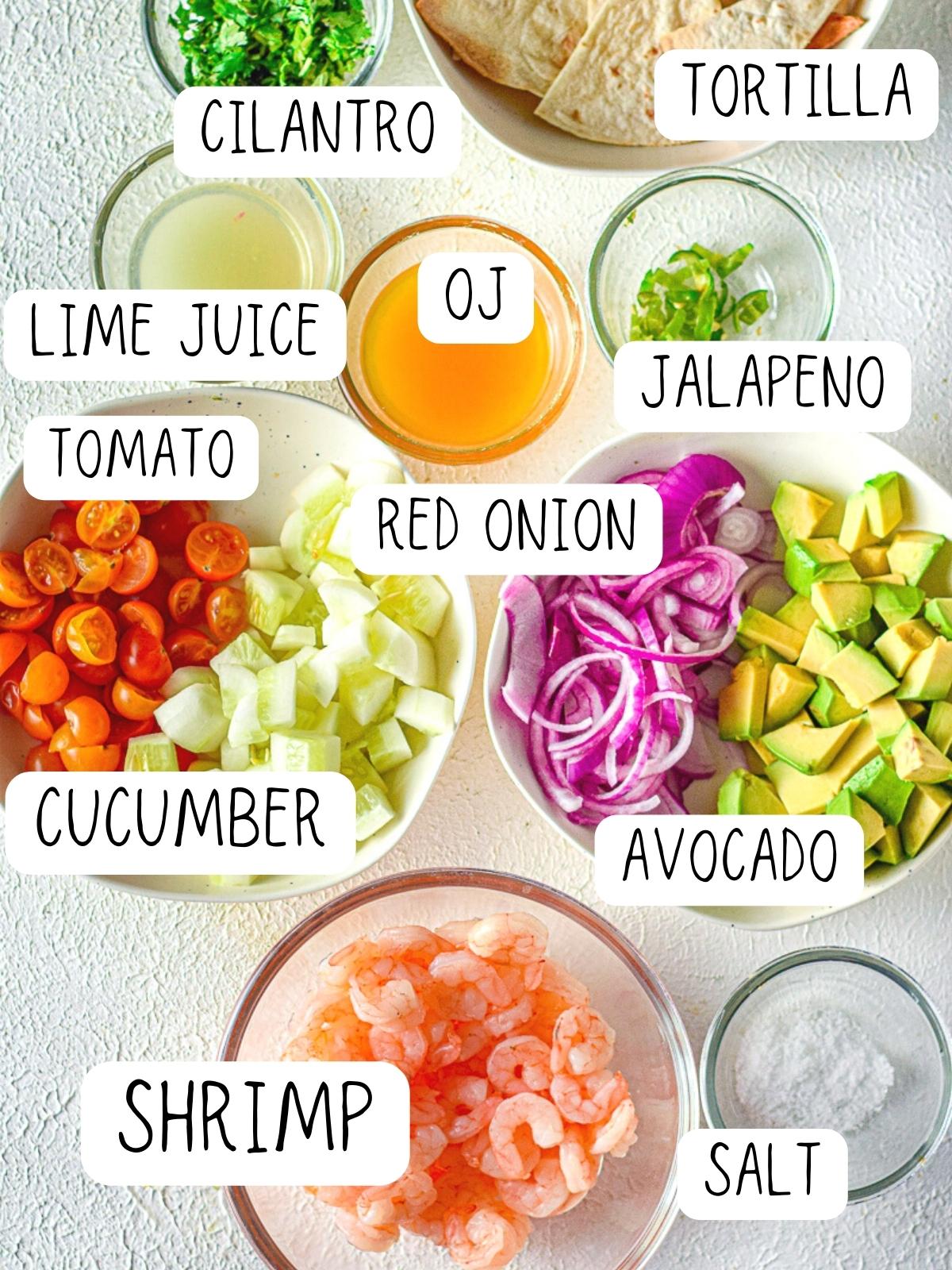 Shrimp: Fresh, peeled, deveined, and cooked
Cucumber: Cucumber adds freshness and a crunch to this ceviche recipe. Plus, it is loaded with nutrients.
Red onions: I love the savory and string flavor of red onions. It goes so well in this recipe. If you don't have red onion, you can also use white onion.
Cherry tomatoes: Cherry tomatoes are plump, refreshing, and loaded with flavors. Cut them in half to use them in this recipe.
Jalapeño: jalapeño has a moderately spicy and tangy flavor. It seasons the ceviche really well.
Avocado: avocado is not just low in carbs but is also super healthy. Plus, its smooth texture also gives this dish a dimension.
Cilantro: Fresh cilantro has a citrusy flavor and adds freshness to this dish.
Lime juice: No ceviche recipe is complete without freshly squeezed lime. It adds a citrusy note and freshness to the dish.
Fresh orange juice: omit if strict keto, or lower the amount for low carb diets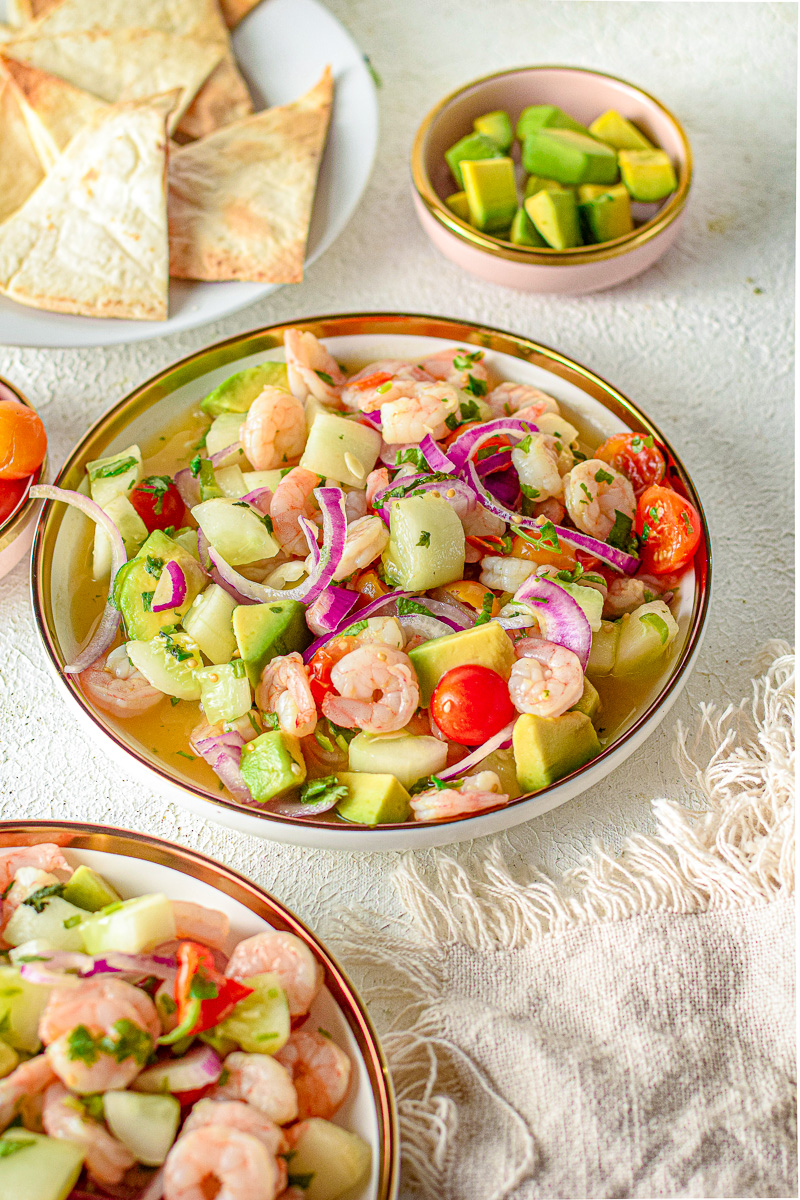 instructions
Follow these simple step-by-step instructions for making a low carb shrimp ceviche.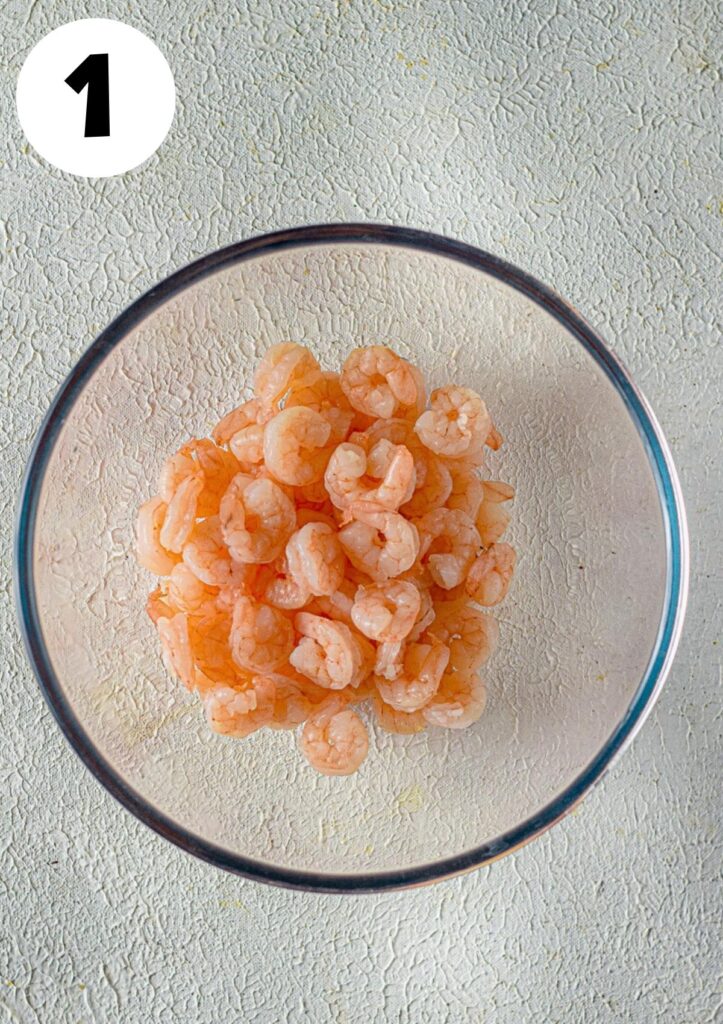 tips
Using small bite-sized shrimps works best for this recipe. However, if you are using large shrimps, you can cut them into bite-sized pieces and add them to your ceviche.
Make sure you let the ceviche marinate in the refrigerator for at least an hour. This way, all the flavors will combine and blend in well. So, you get rich flavors in every bite.
If you are making this shrimp ceviche in advance, skip adding avocado till the last minute. This way, the avocado won't brown and ruin your dish.
You can add more ingredients or remove a few to customize this dish according to your liking. For instance, you can add bell peppers, corns, green onions, mangos, or pineapples for more flavor and texture.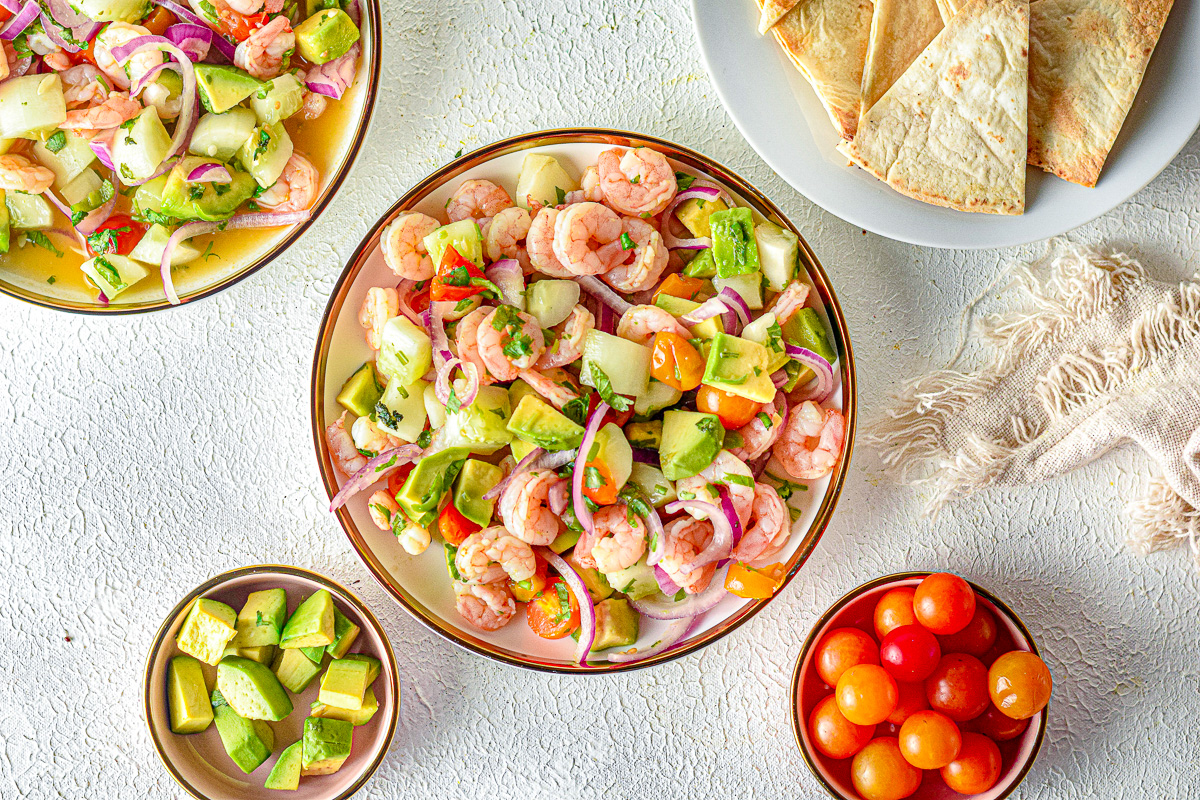 FAQs
How to serve ceviche?
The best way to serve a ceviche is fresh, and you can enjoy it with tortilla chips, plantain chips, crackers, or on toast. Moreover, it also tastes great on a lettuce leaf, so you can make a wrap out of it. 
How many carbs are in ceviche?
This shrimp ceviche recipe contains only 8 grams of carbohydrates and 7 net carbs. Thus, it is a low-carb, healthy, and great dish for those on a keto diet.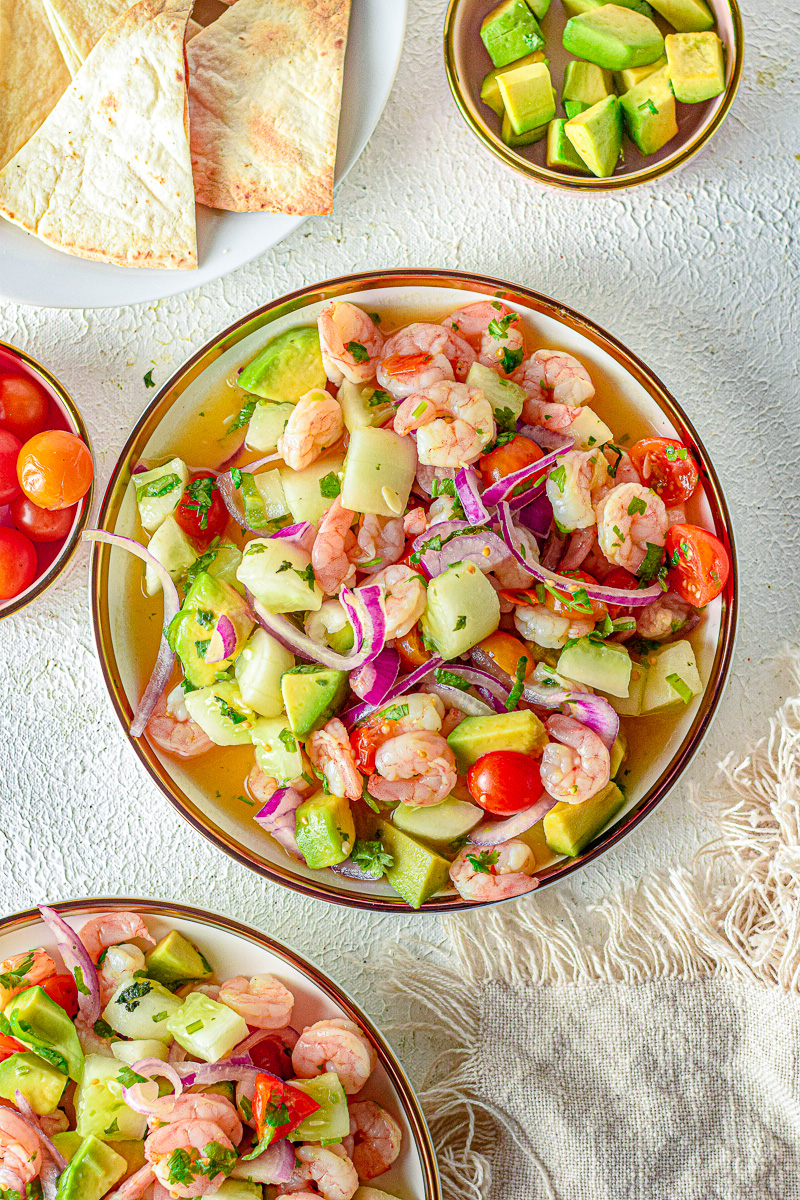 Why is shrimp ceviche healthy?
Shrimp ceviche is a healthy choice because it is low in carbohydrates. Plus, it is also loaded with vitamin C and antioxidants. As a result, it protects the body. Since all the ingredients are fresh, you get to enjoy the nutrients of different ingredients.
How long does shrimp take to cook?
Cooking shrimp is easy and takes no more than 3 minutes. Let them cook for 3 minutes or until they get a pink tone. Drain the shrimps and let them cool down.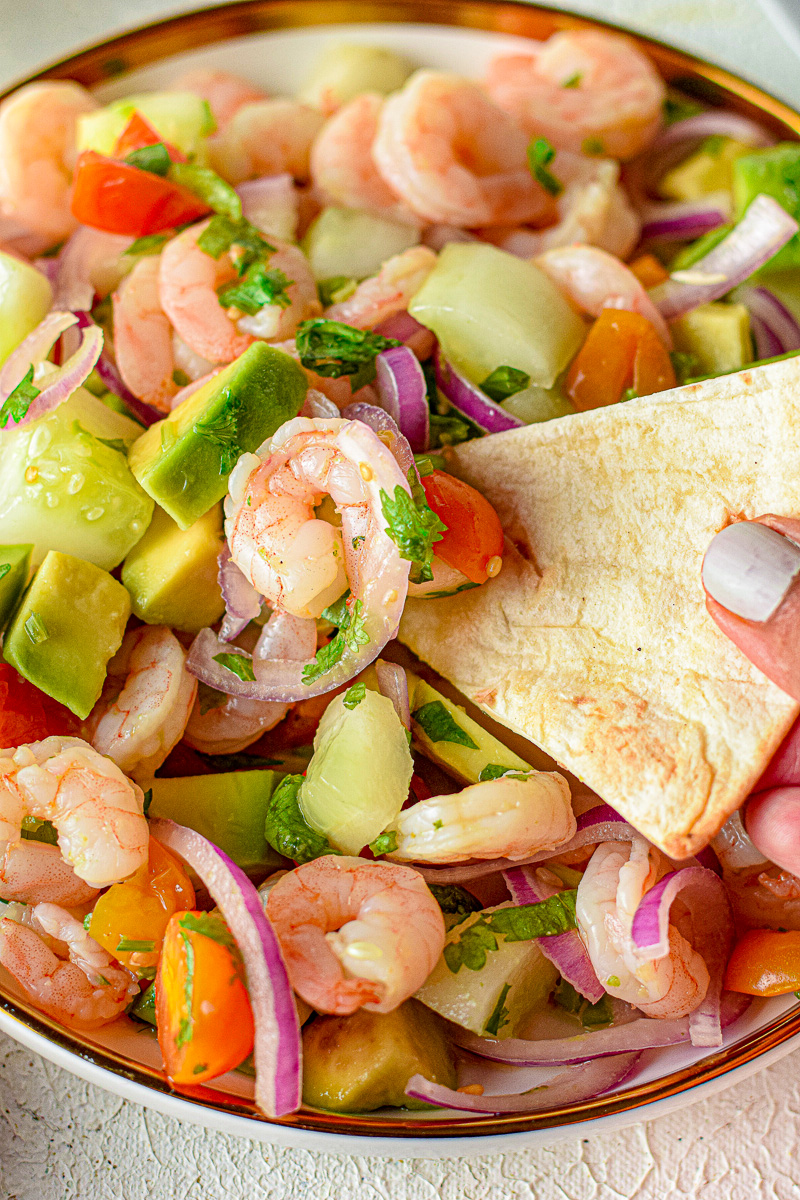 How long does ceviche last?
Easy shrimp ceviche is best consumed fresh and chilled. However, you can store the leftover shrimp ceviche by placing it in an air-tight container. Refrigerate for a day and not more. 
What to serve with ceviche for dinner?
Keto shrimp ceviche is a simple yet delicious and refreshing dish you can enjoy as an appetizer or a side dish. So you can serve it with tortilla chips, plantain chips, kale chips, salt or cheese crackers, or even with keto friendly nacho chips, tostadas or even on a lettuce leaf to make a delicious wrap.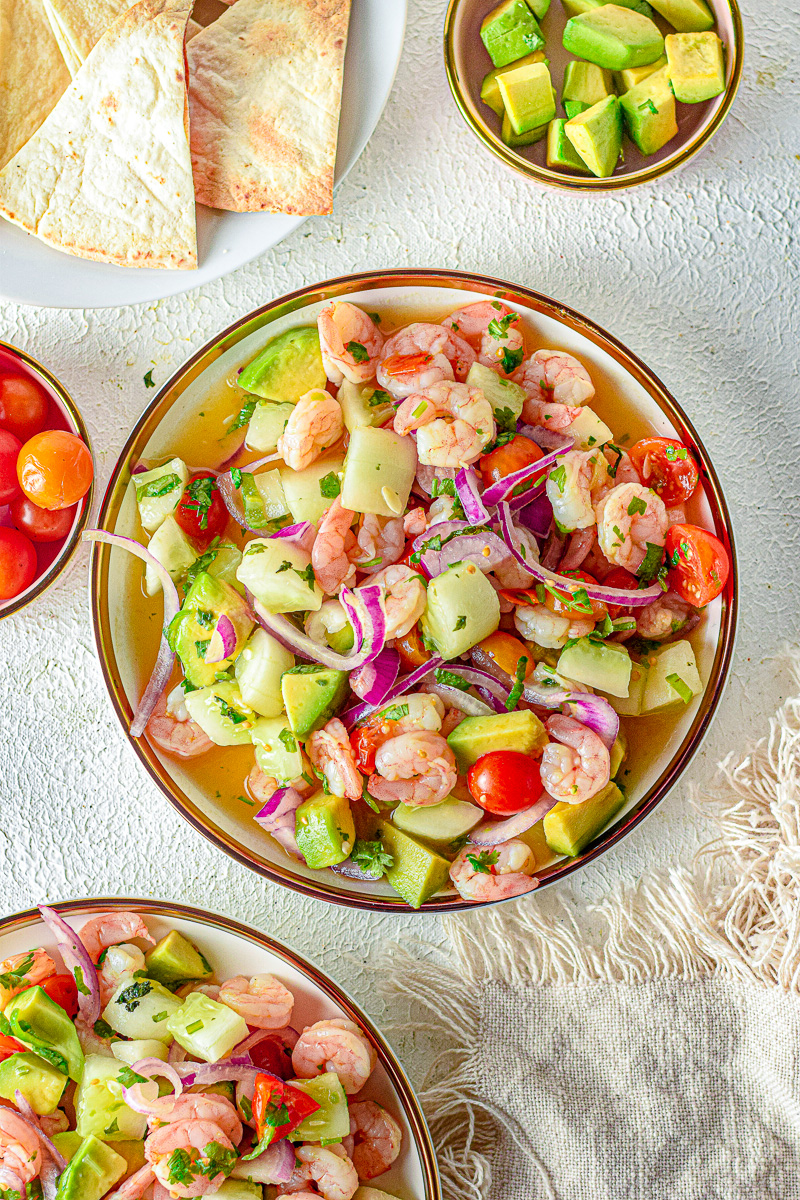 Can you freeze shrimp ceviche?
Because it is so easy to make, I recommend you make it fresh every time and enjoy it. Don't ever think of freezing a shrimp ceviche. It should always be enjoyed fresh.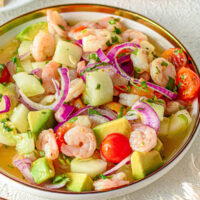 Keto Shrimp Ceviche
Keto Shrimp Ceviche made with avocado, cilantro, lime juice, onion, cucumbers and more. A Mexican favorite, low carb style.
Print
Pin
Rate
Ingredients
1

lb

shrimps

peeled, deveined and cooked

¾

cup

cucumber

diced

½

cup

red onion

diced

1

cup

cherry tomatoes

sliced lengthwise

½

cup

cilantro

chopped

½

jalapeño

minced

¼

cup

lime juice

⅓

cup

orange juice

optional

½

tsp

salt

keto friendly tortilla chips

optional

hot sauce

optional
Instructions
*To cook shrimp: Fill a large pot with water, add salt, and bring it to a boil over high heat. Turn off the heat, add the shrimp and let them cook for 2-3 minutes or until they turn pink. Drain and set aside until cool.

In a bowl place cooked shrimps, cucumber, red onions, cherry tomatoes, jalapeño, avocado, and cilantro.

Pour lime juice and orange juice over the shrimp mixture. Add salt and toss everything to coat.

Cover and refrigerate for at least 45 min to marinate.

Serve immediately with tortilla chips and enjoy.
Notes
It is advisable to consume shrimp ceviche fresh. However, you can store the leftovers in an airtight container for 1 day in the refrigerator.

Freezing is not recommended.

I've used small bite-size shrimp in the recipe as it makes the Ceviche easier to eat. But, you can use larger shrimp as well that have been diced into bite-size pieces.

Ceviche must be marinated for at least an hour, so don't skip that.
Nutrition
Calories:
128
kcal
|
Carbohydrates:
8
g
|
Protein:
24
g
|
Fat:
1
g
|
Saturated Fat:
1
g
|
Polyunsaturated Fat:
1
g
|
Monounsaturated Fat:
1
g
|
Trans Fat:
1
g
|
Cholesterol:
183
mg
|
Sodium:
433
mg
|
Potassium:
518
mg
|
Fiber:
1
g
|
Sugar:
4
g
|
Vitamin A:
403
IU
|
Vitamin C:
28
mg
|
Calcium:
91
mg
|
Iron:
1
mg
more shrimp recipes…