This lemon kale Cesar salad is just like the Chick-fil-A version, but made right at home with a delicious tangy dressing. Try this salad with chopped grilled chicken or salmon for a delicious, healthy dish!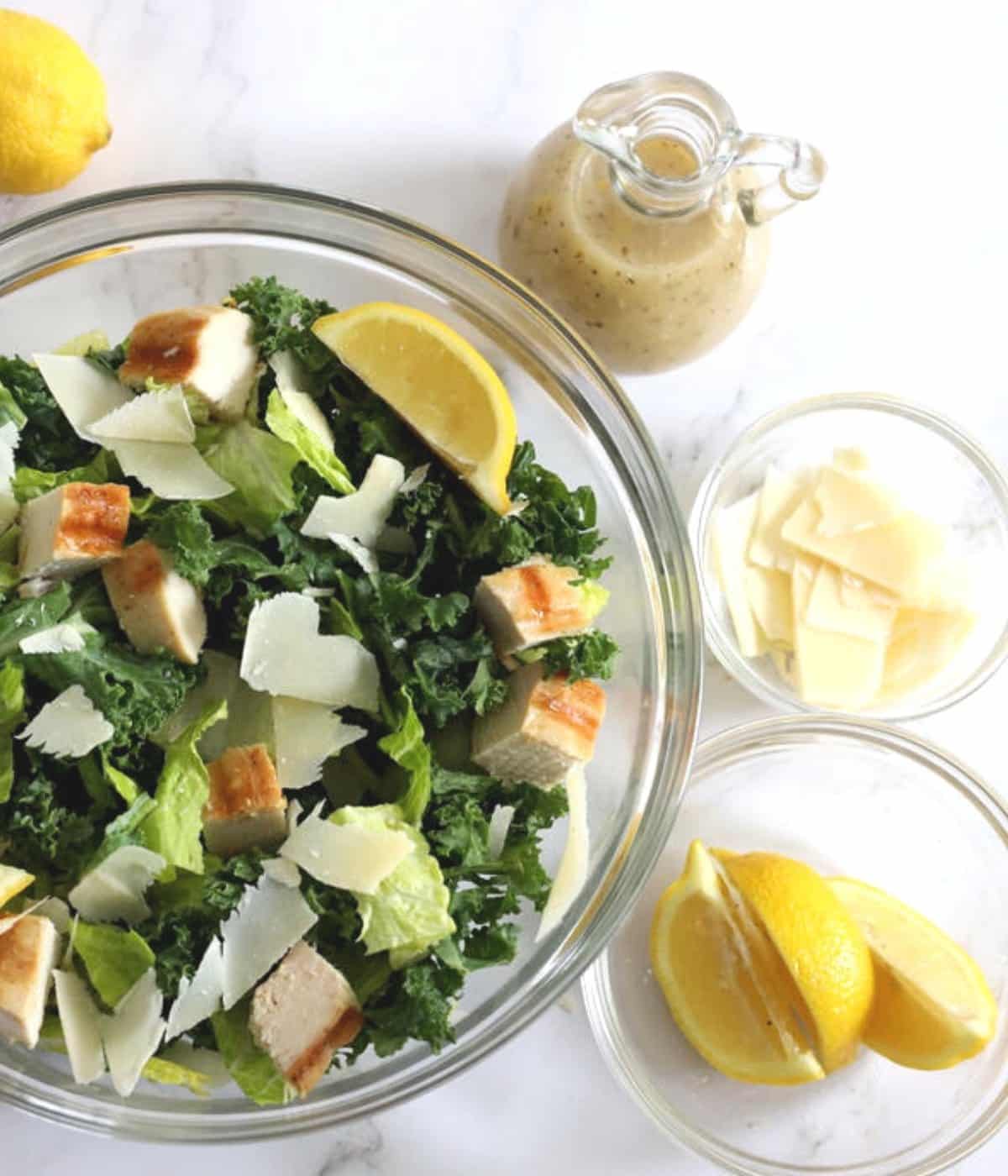 Why you'll love this salad
This salad is my lunch go-to for any time of year, especially during the summer. My family loves this easy chicken salad because it's healthy, refreshing and keto friendly.
How do I prepare kale? 
I prefer to use my hands to grab the leafy portion and rip from the stalk, but you may use a knife. 
From there, roughly chop the kale or continue tearing into smaller bits with your hands.
Give the kale a good rinse in a colander.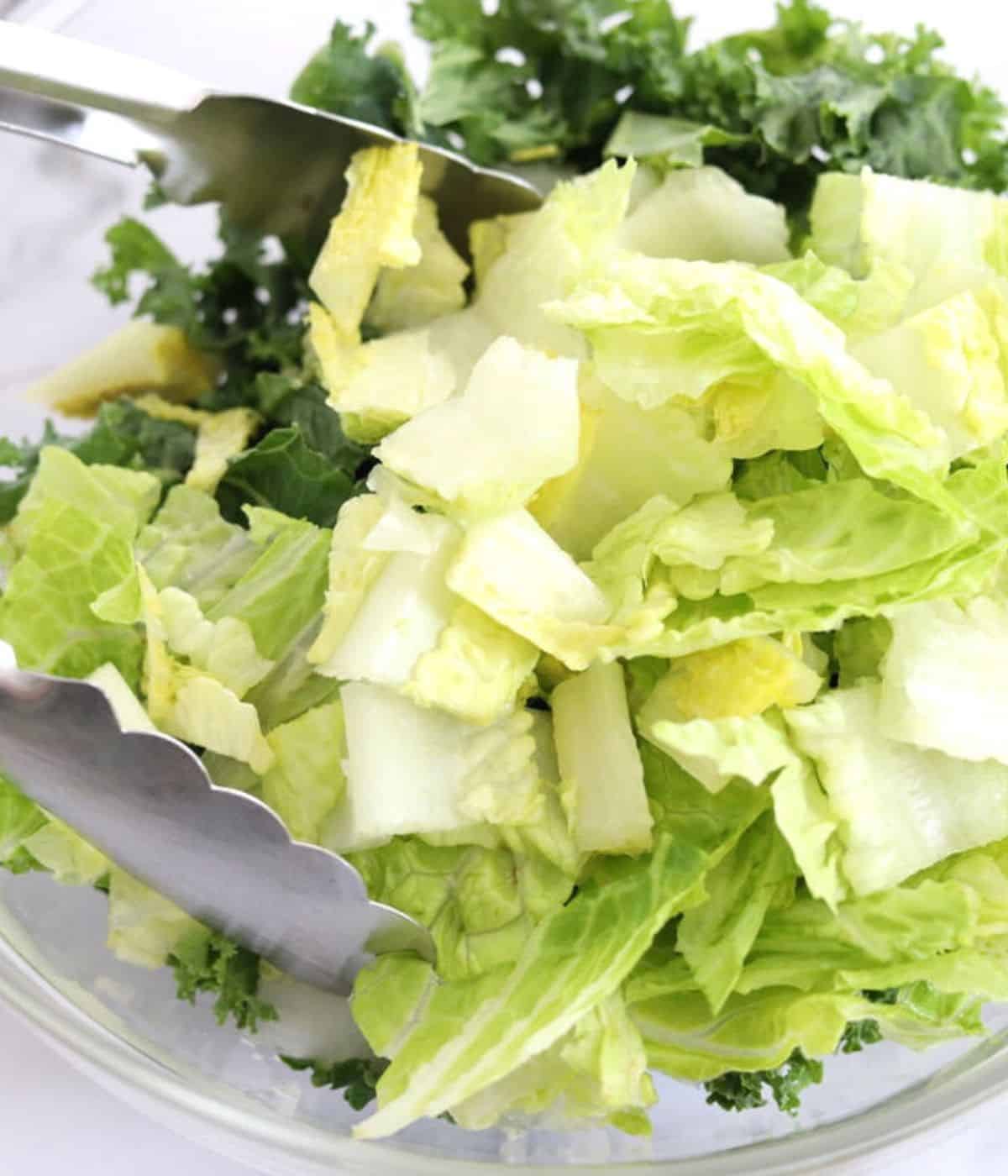 Do I need to "massage" kale? 
Turns out, when kale is "massaged" or crunched between your hands, it provides better flavor and texture. Who knew?!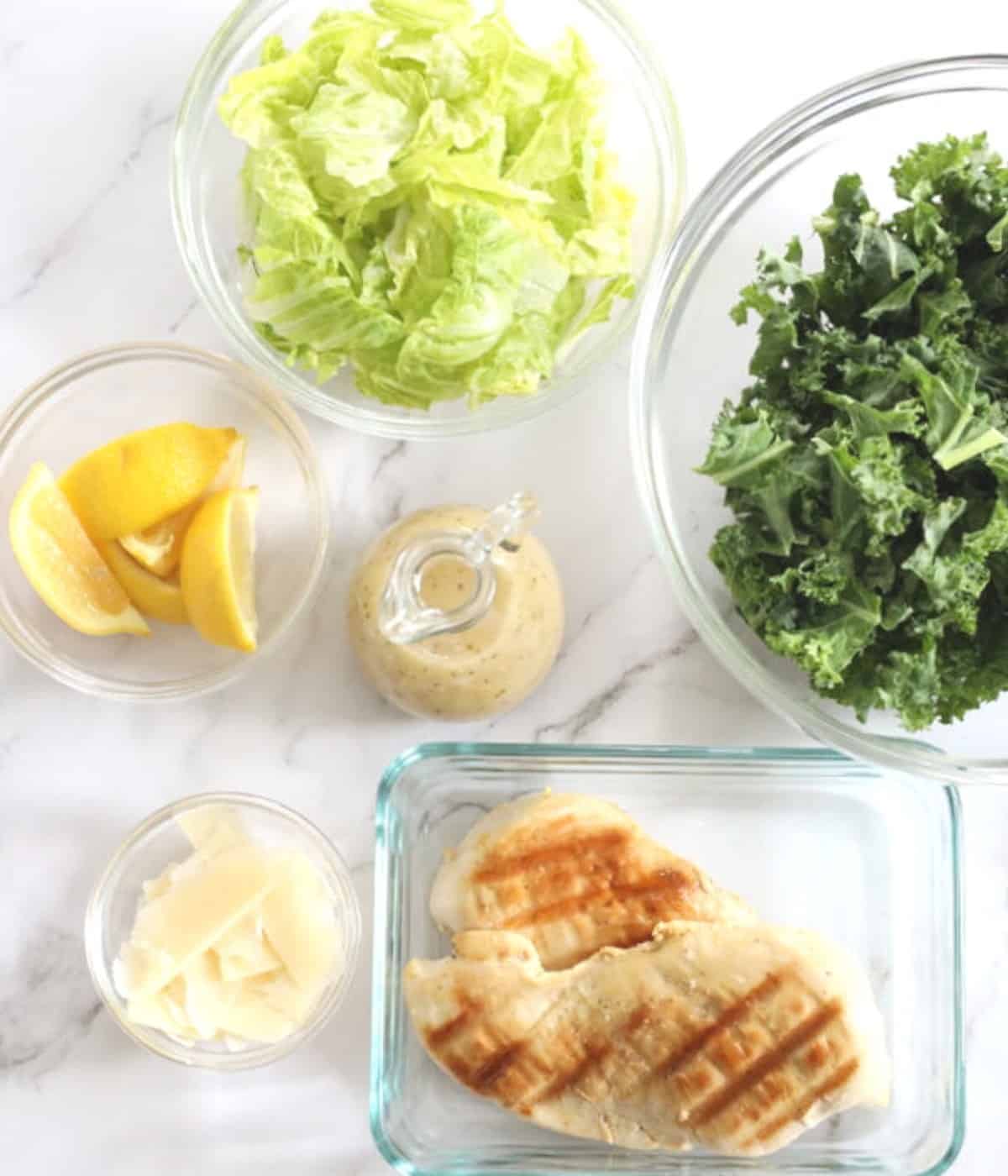 How many calories/ carbs are in Chick-fil-A's kale Cesar salad? 
According to Chick fil A's nutritional info, Chick-fil-A's version has 22 carbs and 400 calories. 
The ingredients in Chick-fil-A's salad include grilled or crispy chicken, shaved parmesan, lemon wedges, romaine lettuce, kale, panko breadcrumbs, and lemon Cesar vinaigrette dressing.
This chick-fil-a lemon kale cesar salad copycat recipe has 7 total carbs (5 net) and 400 calories.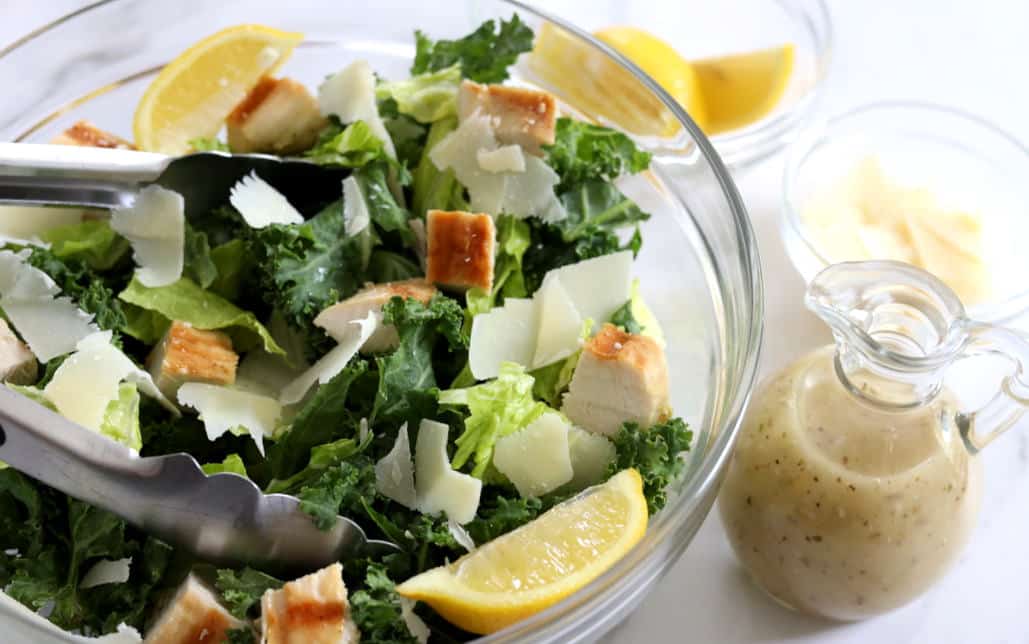 What can I substitute for kale? 
You may use any lettuce of preference. 
Try arugula and baby spinach if you do not have kale on hand. 
Carbs/calories in kale
One cup of chopped kale only has 33 calories and 6 g. carbs.
What makes kale healthy? 
Kale is a healthy superfood because it contains fiber, vitamins C and K, iron, antioxidants, calcium, and tons of other nutrients. 
How long will kale keep in the fridge? 
Fresh kale should keep for up to a week in the refrigerator. 
You'll want to store in a supermarket plastic bag or a zip-top plastic bag in the refrigerator crisper drawer and reduce moisture.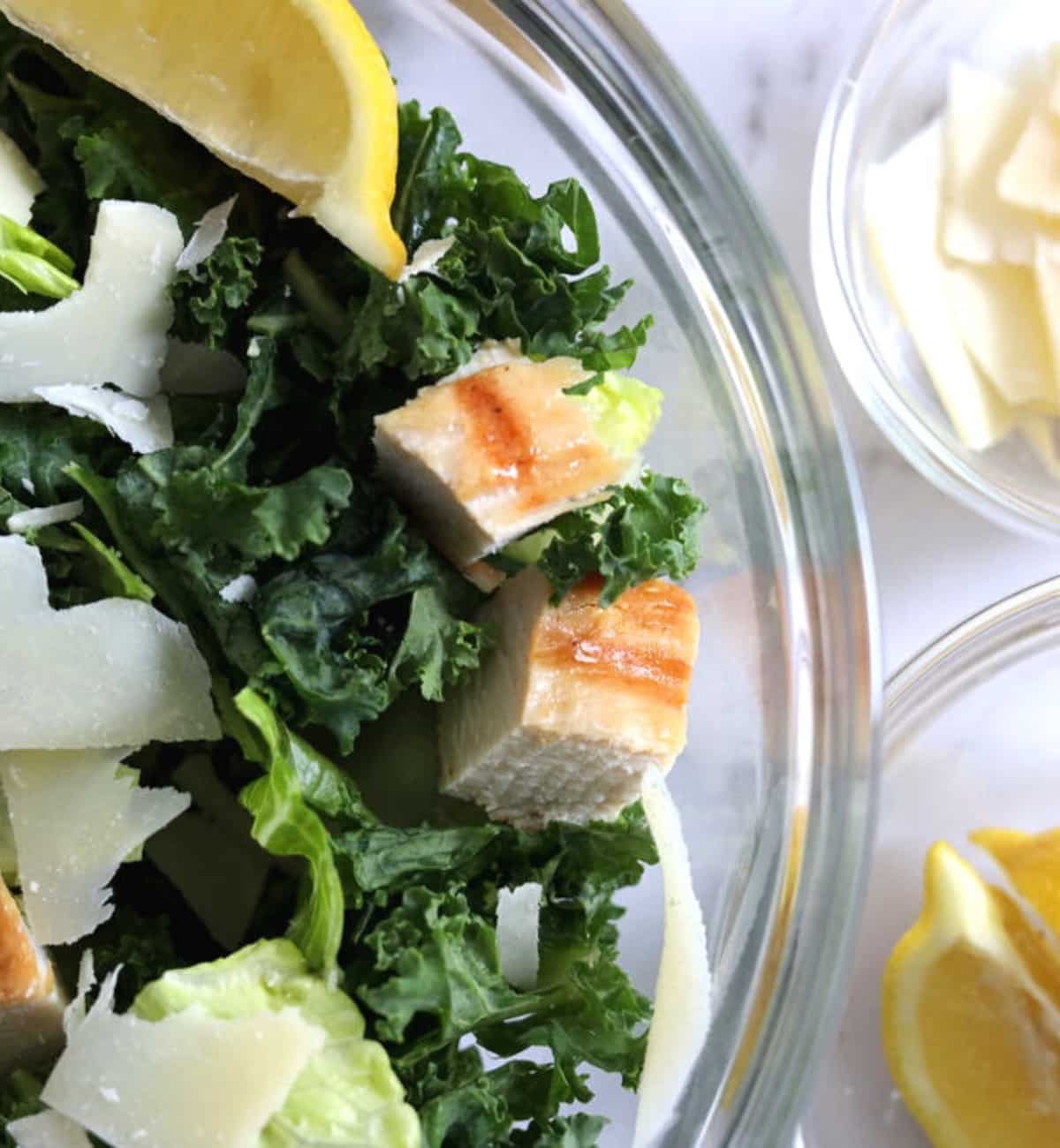 Toppings (protein) 
At the drive-thru, this chick-fil-a lemon kale cesar salad is typically served with a grilled chicken filet, but you may opt to serve it with grilled steak or salmon. 
And, if you enjoy a nice kale salad, try our copycat Chick fil A superfood salad made with dried cranberries and nuts.
Tips for grilling chicken at home
For this recipe, I used a George Foreman-type griddle, cooking my chicken breast filets evenly on both sides. 
You may also just a skillet with a bit of olive oil, a sprinkle of lemon pepper/ garlic powder. 
If you're working with large chicken breasts, slice them in half to cook more evenly.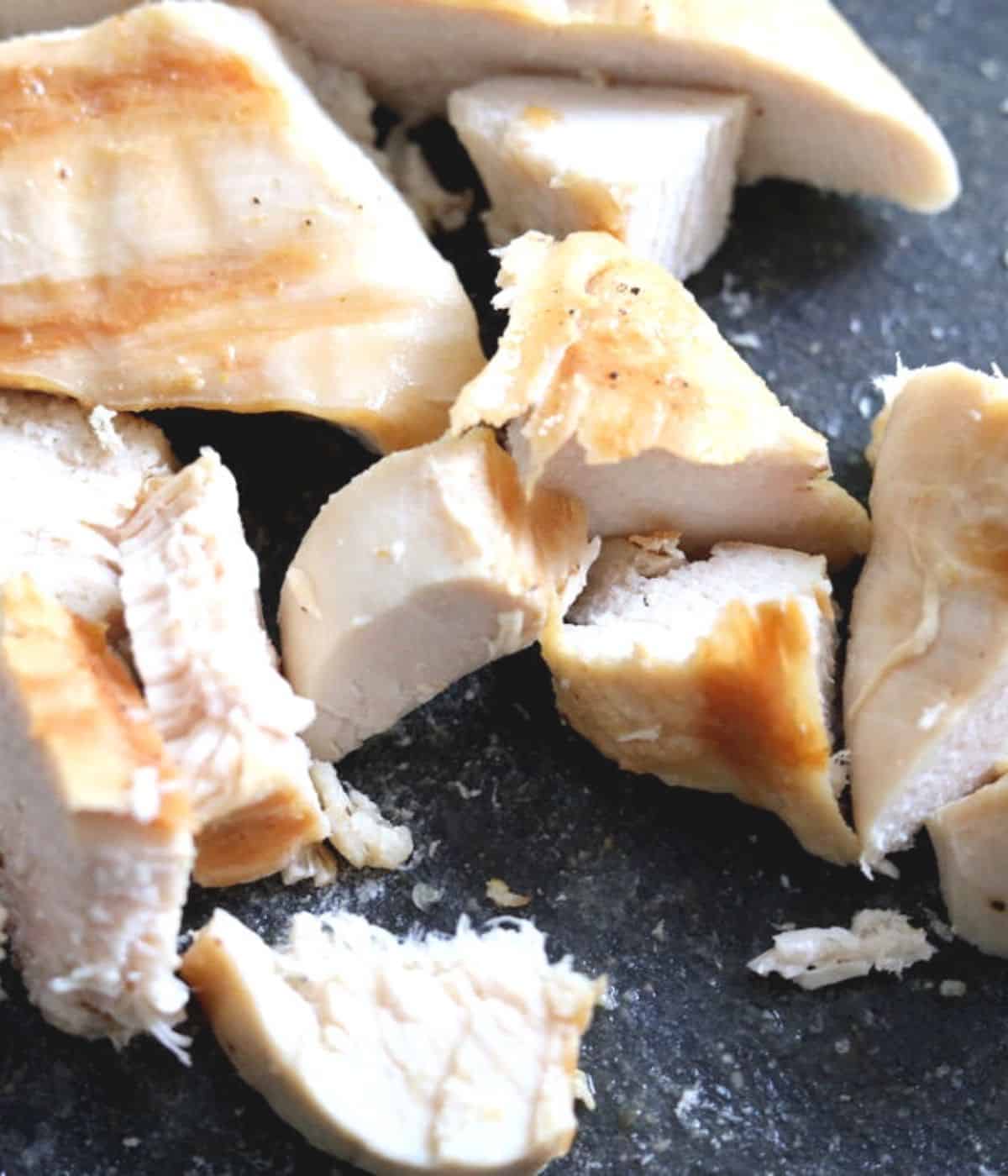 Making this salad for meal prep
For meal prepping, grill chicken breasts ahead of time and chop. 
Place chicken and dry salad ingredients into meal prep containers (or Mason jars) and seal. 
Tip: dressing should be kept separate until ready to eat (prevents soggy lettuce).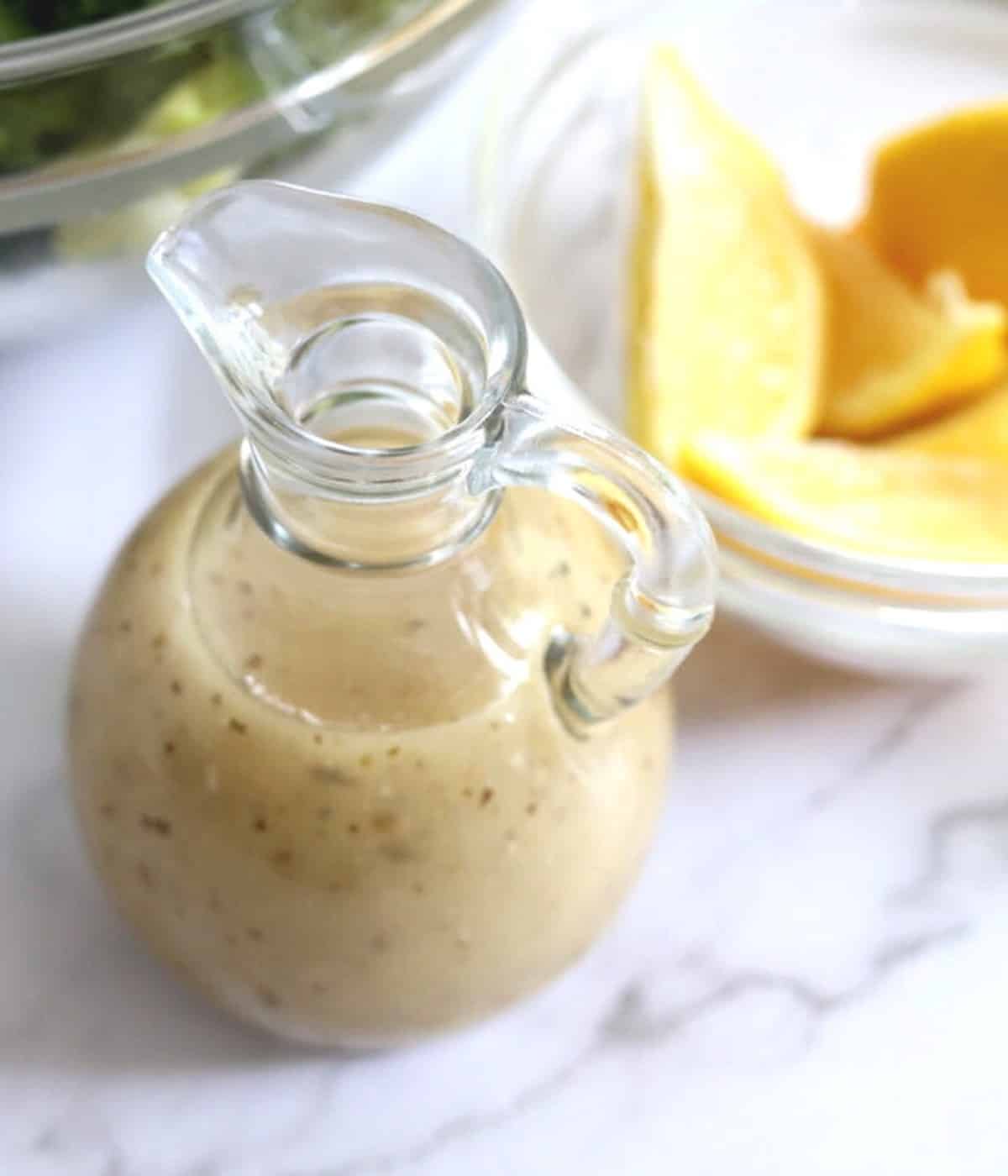 How to make lemon-vinaigrette salad dressing 
This dressing is easy to make as a low-carb / keto version: 
Combine: 
1/4 cup white wine vinegar (or lemon juice)
1/2 cup olive oil
2 tablespoons Dijon mustard
1/2 teaspoon coarse salt
1/4 teaspoon black pepper
1 tsp garlic powder (optional)
1/2 tsp. Confectioner's Erythritol or sweetener to preference (optional)
If you prefer a creamy lemon dressing
Prepare dressing according to directions, but add in 1/2 cup sour cream, 1 tsp dill, and 1/2 cup mayonnaise. 
Store-bought dressing
Too busy to make your own homemade dressing? Try Marzetti's Simply Dressed Lemon Vinaigrette. 
It's not only healthy and low-carb, it's super yummy!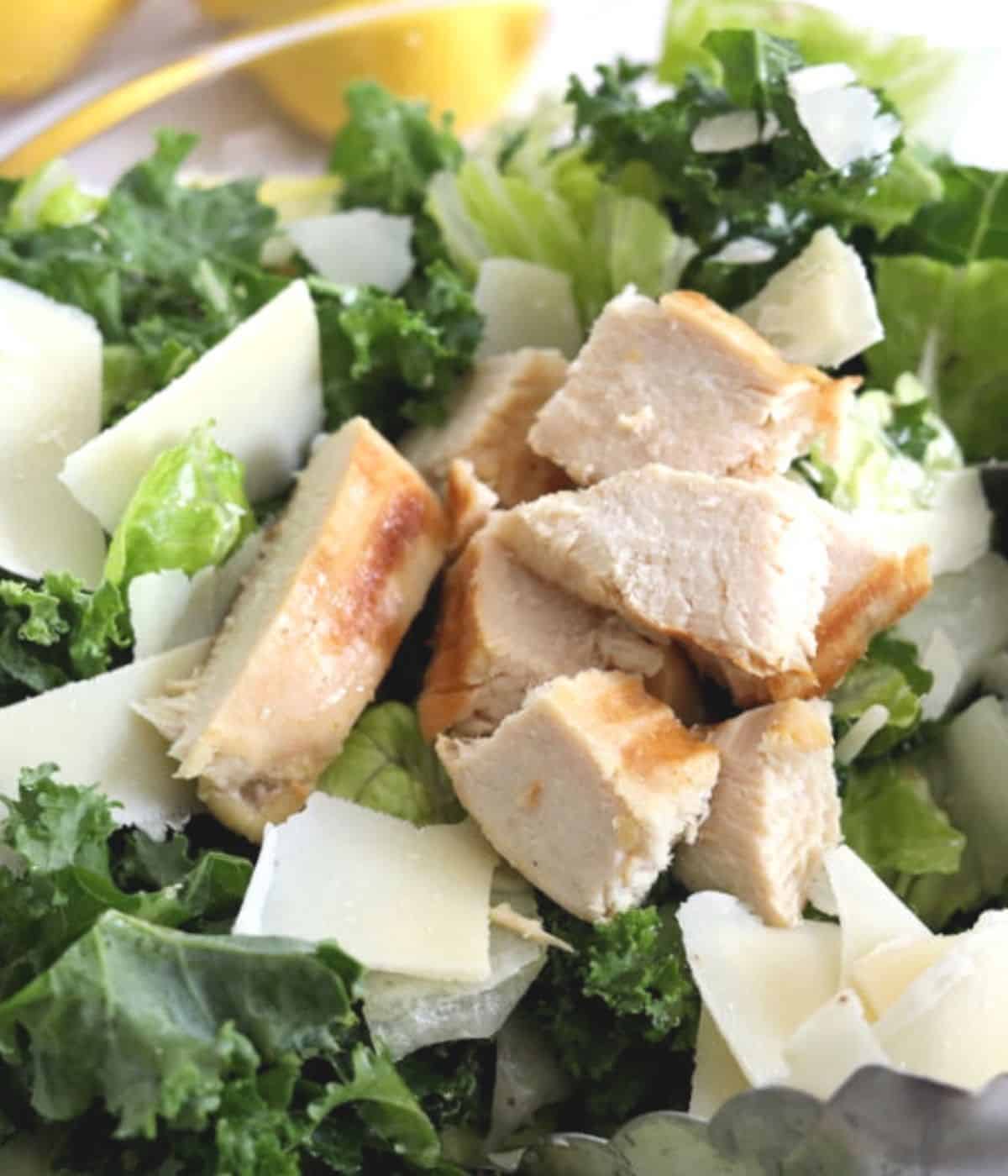 Delicious and healthy Cesar salad toppings
Depending on your preference, you may use any kind of roughly chopped nut, dried fruit, cheese crisps or shredded cheese. 
Other low carb salad toppings include:
Boiled eggs
Tomatoes
Cucumber 
Bacon bits
Red pepper flakes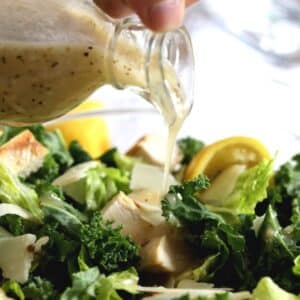 Copycat Chick fil A Lemon Kale Cesar Salad
A lemon kale Cesar salad just like Chick-fil-A you can make at home with a delicious dressing.
Print
Pin
Rate
Ingredients
1

lemon

cut into wedges

3

cups

kale

chopped

3

cups

romaine lettuce

chopped

3

chicken breasts

grilled and sliced

½

cup

parmesan cheese

shaved
Lemon Vinaigrette Dressing
½

cup

olive oil

¼

cup

white wine vinegar

or lemon juice

2

tbsp

dijon mustard

¼

tsp

black pepper

1

tsp

garlic powder

optional

½

tsp

confectioner's erythritrol

optional, for sweeter dressing
Instructions
Salad Instructions
Rinse kale and lettuce. Chop.

Massage kale by squeezing to release natural flavor and texture. Add in other ingredients. Top with dressing.
Nutrition
Calories:
400
kcal
|
Carbohydrates:
9
g
|
Protein:
44
g
|
Fat:
36
g
|
Saturated Fat:
7
g
|
Trans Fat:
1
g
|
Cholesterol:
117
mg
|
Sodium:
507
mg
|
Potassium:
1037
mg
|
Fiber:
2
g
|
Sugar:
1
g
|
Vitamin A:
8251
IU
|
Vitamin C:
78
mg
|
Calcium:
257
mg
|
Iron:
2
mg
Soup favorites for salad…